Today's D Brief: After the insurrection; Trump's social-media ban; US diplomats decry POTUS; Navy's coming missile gap; And a bit more.
7 min read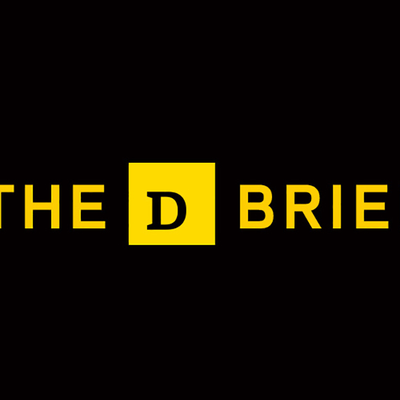 Understanding the insurrection. We've just begun the last full week of Donald John Trump's presidency, and there's still a significant amount of new and developing information to unpack regarding 8,000 or so of his supporters' "failed insurrection" at the U.S Capitol Building on Jan. 6. We've gathered what we consider to be the most salient below, including… 
House lawmakers are officially unveiling an article of impeachment this morning at 11 a.m. ET. The single article accuses the outgoing president of "incitement of insurrection," according to the documents' text, which you can find on CNN, here. 
How that is expected to proceed: "The House, which was set to be in recess this week, will attempt to pass the resolution by unanimous consent, which can be blocked if any one lawmaker objects," the Wall Street Journal previews. "If the resolution fails to pass by unanimous consent, Mrs. Pelosi will reconvene the full House for a vote. If the resolution is approved and Mr. Pence doesn't act to remove Mr. Trump from office within 24 hours, the House will proceed to impeachment."
ICYMI: Trump was permanently banned from Twitter on Friday night, and Facebook banned him from posting at least until after the inauguration on Jan. 20. 
Removing Trump from Twitter is a very big deal, writes Peter W. Singer. Social media sites like Twitter and Facebook, Singer argues in Defense One, "have finally come to the realization that they have a whole new set of responsibilities. They are not just tech creators or even the equivalent of news-media editors. After years of dodging it, they get that they are running information warzones. And there is a key change that comes from understanding that social media is not just a communication space but a conflict space." Read on, here.
The National Guard response was slowed Wednesday by Senate and House security officials, the outgoing Capitol Police chief told the Washington Post on Sunday. 
Facing particular pressure: Army Lt. Gen. Walter Piatt, director of the Army Staff. "I don't like the visual of the National Guard standing a police line with the Capitol in the background," Piatt allegedly told Sund when Sund first asked for Guard support at about 2:30 p.m. on Wednesday. Read on at the Post, here. 
At least 90 people from the mob have been charged so far, according to the Associated Press. Charges range "from misdemeanor curfew violations to felonies related to assaults on police officers, possessing illegal weapons and making death threats against House Speaker Nancy Pelosi, D-Calif." (The George Washington University's Program on Extremism is tracking dozens of the accused here. Only three are facing firearms charges, and the vast majority stand accused of "Illegal Entry and Activity on Designated Grounds.")
The U.S. Army is investigating after a recently-resigned captain was spotted at the riots, AP reports separately today. The Army wants to know if she brought soldiers with her. Her name is Emily Rainey, 30, from Southern Pines, North Carolina, which is just west of Fort Bragg. She was assigned to the Bragg-based 4th Psychological Operations Group. And by the way, "She had already resigned her commission after receiving a career-ending letter of reprimand for her actions at an earlier protest" this past summer, CBS News reports today. The resignation wasn't officially finalized "because the process takes time," a defense official told CBS.
The FBI finally arrested two men who entered the Capitol with zip ties, the New York Times reported this weekend. One was a 30-year-old from Nashville; and the other was a 53-year-old man from North Texas. 
The older zip-tie guy is a former Air Force A-10 pilot who worked at L3 Technologies, a defense contractor. The Times reports "his contacts at the company 'knew he was flying to Washington, D.C.'" 
Prosecuting those two cases: The U.S. attorney's office in Washington "and the counterterrorism section of the Justice Department's national security division," the Washington Post reports. 
For the record, the FBI dismissed the "it was Antifa" allegation. There is "no indication" so-called Antifa activists were involved in the Wednesday riot, Steven D'Antuono, the assistant director in charge of the FBI's Washington field office, told reporters Friday.
Who exactly was carrying the Confederate flag in so many pictures on Jan. 6 at the Capitol? The FBI wants your help identifying the guy seen here. 
Another thing: One rioter beat a police officer with an American flag pole, the Washington Post reports. 
Two possible new dates for clashes: Jan. 17, and Jan. 20. Both are dates pro-Trump fanatics are planning to "protest" in Washington, D.C., again. 
BTW: Colin Powell finally bailed on the GOP, McClatchy news reported this weekend. 
Cumulus Media has an ultimatum for its conservative talk radio hosts, which include Mark Levin, Ben Shapiro and Dan Bongino: The company "will not tolerate any suggestion that the election has not ended. The election has been resolved and there are no alternate acceptable 'paths.'" More from the Washington Post. 
And the social media app Parler was effectively shut down this weekend after Apple, Google and Amazon banned the site from its platforms. The Wall Street Journal reports "Amazon had said in a letter to Parler over the weekend that it had seen a steady increase in violent content on the site and said Parler's efforts to remove it were inadequate." Apple and Google officials felt much the same way. More here. 
---
From Defense One
Superspreader Down: How Trump's Exile from Social Media Alters the Future of Politics, Security, and Public Health // Peter W. Singer: Platform companies have finally come to grips with their roles as owners of battlefields.
Pelosi Calls Milley To Discuss Keeping Nukes From Trump / Katie Bo Williams: The House Speaker's public revelation of the call may have been intended to pressure members of Trump's cabinet to invoke the 25th Amendment.
Congress Launches Investigations into Capitol Police Following Siege / Katie Bo Williams: Two Senate committees add an inquest to the House inquiry announced on Thursday.
Riots Shine Light on 'Infamously Opaque' Capitol Police  // Courtney Bublé, Government Executive: The 193-year old agency has a large budget and workforce, but lacks transparency mechanisms.
Riot Exposed Capitol's IT Vulnerabilities / Aaron Boyd: Devices were stolen from members' offices. Were networks penetrated as well?
The Defense Business Brief / Marcus Weisgerber: CEOs condemn insurrectionists; Boeing to pay $2.5B to settle 737 Max conspiracy charge; Dems control Congress; and more… 
US Space Force Becomes 18th Member of U.S. Intelligence Community / Patrick Tucker: Growing threats to U.S. space assets require more intelligence collaboration, senior official says.
Welcome to this Monday edition of The D Brief from Ben Watson and Bradley Peniston. Send us tips from your community right here. And if you're not already subscribed to The D Brief, you can do that here. 
---
Former Deputy Secretary of State Bill Burns to lead CIA. In Burns — currently the president of the Carnegie Endowment for Peace — President-elect Joe Biden has picked a seasoned senior diplomat who spent 32 years at the State Department, served as U.S. ambassador to Moscow and Jordan, and led secret talks with Iran.
"Mr. Burns' experience is as a consumer of intelligence, not as a producer. C.I.A. directors are expected to put aside their policy recommendations and focus on information and prediction. Still, former agency officials have asserted the most important quality in a director is not expertise in intelligence, but a relationship with the president, which Mr. Burns has," writes the New York Times, which confirmed the pick after David Ignatius of the Washington Post reported it.
Read a selection of Burns' essays published on Defense One, here.
U.S. diplomats sent unprecedented second dissent cable slamming Pompeo for failing to condemn Trump. Foreign Policy: "Career officials at the State Department filed a second unprecedented dissent cable condemning President Donald Trump for inciting the violent mob that stormed the U.S. Capitol on Jan. 6 and urging top administration officials to consider invoking the 25th Amendment to remove him from office. The dissent cable is the second such cable [here's the first] sent to Secretary of State Mike Pompeo this week, reflecting widespread shock and anger in the diplomatic corps at Trump's actions and Pompeo's own response to the political crisis. The protest against the sitting U.S. president by American diplomats is largely unparalleled in the department's nearly 232-year-long history." Read on, here.
The U.S. Navy's looming missile problem: not enough tubes. David Larter opens a promised 3-part series on the sea service's plans for unmanned vessels by noting that robot ships were supposed to replace many of the Vertical Launch System missile launch tubes that will go away over the next decade with the retirement of Tico cruisers and Ohio SSGNs. Then Congress, fed up with the development woes of the Ford carrier, decimated funding for the Navy's  Large Unmanned Surface Vessel (LUSV) development program. Read on, here.
There's new top-level guidance from the Chief of Naval Operations. Adm. Michael Gilday released his NAVPLAN on Monday, calling it the better-developed version of his Design 2.0 of last May. The document is intended to focus the efforts of the Navy, Gilday told reporters. "The Navy has lost its sense in the past, at times, at what our raison d'etre is. And it's sea control and to project power forward."
More specifically, Gilday says in the document: "This Navigation Plan charts the course for how we will execute the Tri-Service Maritime Strategy [released in December]. It supersedes Design 2.0 and informs my annual guidance for the Program Objective Memorandum and an internal implementation framework."
Why release it now, just before a new administration? Gilday noted that it can take six to eight months for a new administration to get a Navy secretary confirmed and in place. "The NAVPLAN is what I believe we need. I'm telling the Navy and the Hill what I think we need to do in this decade. We can alter that depending on how much money we get."
And lastly: With just eight days left in his presidency, Trump will travel to Alamo, Texas, on Tuesday. It's part of his "farewell tour," Dallas News reported Sunday — and unpacked the stops. For more on the mood inside the White House, Reuters has this.