NIFTY at 18000? Sanjiv Bhasin makes BIG statement on stock market movement around Diwali – VIDEO
Sanjiv Bhasin On Zee Business, NIFTY 50 CHART: Stock market on Friday, October 15, showed an uptick, in-line with the surprise bounce in the US stock market or Wall Street despite higher-than-expected inflation data. Nifty showed a decent up move and closed the day higher by 171 points or 1.01 per cent at 17,185.70 on Friday. The 30-share BSE Sensex ratcheted up 1,200 points intraday and finally settled with gains of 684.64 points or 1.20 per cent at 57,919.97. The rally was boosted by heavy buying in Infosys due to the robust second quarter earnings, banking and finance stocks.
The Friday rally could be a cheering factor for bulls to make a comeback from the lows in the coming days. On the daily chart, a long negative candle was formed with a gap-up opening which is an indication of a breakout. On the weekly chart, a positive candle with upper and lower shadows has been formed which is an indication of high volatility. Notably, Nifty after opening with a huge upside gap of 305 points attempted to move higher but failed to sustain the rally and corrected from 17347.
NIFTY 50 CHART CANDLE NSE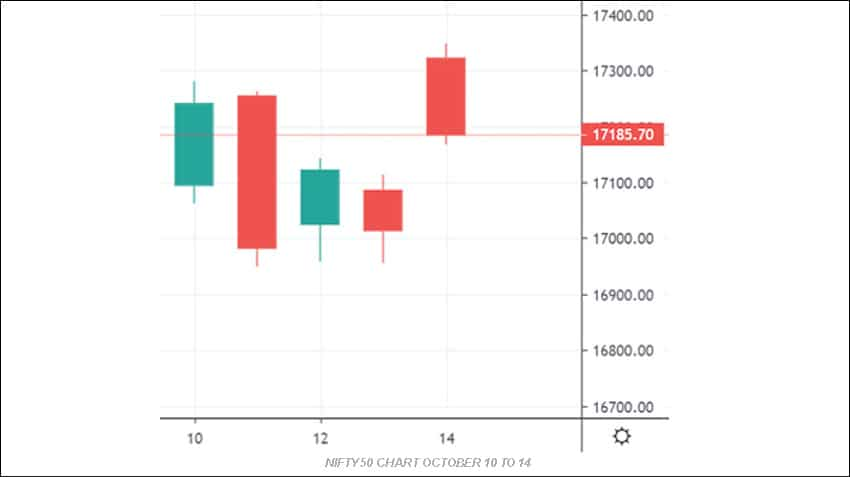 So where is now NIFTY placed and will it touch the psychological level of 18,000 around Diwali?
Sanjiv Bhasin View On NIFTY
According to Sanjiv Bhasin, Director of IIFL Securities and veteran market expert, the US Dollar is seeming to be topping out. When there is a weakness in the Dollar, the emerging market will perform well. He said the dollar index, which gauges the greenback's strength against a basket of currencies, can go easily to 107-108 in the next 2 months which means that emerging markets will outperform.
"On Diwali, we will sound the bugle of 18000," he said during a special edition 'Bhasin Ke Hasin' aired on Zee Business channel with Managing Editor Anil Ainshvi on Friday.
Sanjiv Bhasin Video Zee Business News
'Bhasin Ke Haseen Shares'

जानिए IIFL सिक्योरिटीज के #Sanjivbhasin का आज बाजार पर क्या है आउटलुक?

संजीव भसीन ने आज Mphasis और GMR Fut में क्यों दी निवेश की सलाह?@AnilSinghvi_ @sanjiv_bhasin

#ZeeBusiness LIVE https://t.co/JMRokZdKXf pic.twitter.com/KOZNdsajps

— Zee Business (@ZeeBusiness) October 14, 2022
Vinod Nair, head of research, Geojit Financial Services, said that the rally in the domestic market will likely continue in the short-term, led by festival demand and second quarter results. He said that buying at a dip is the best strategy in this scenario with a focus on domestic economy-oriented stocks and sectors. The sectors which are expected to outperform are IT, pharma, FMCG, durables, green initiatives, specialty chemicals and mass manufacturers with value buying as the theme.
The last time when Nifty 50 reclaimed 18000 was on September 15 (18096.15) but it didn't hold and reversed sharply to close below 17900. The index closed above 18000 on two occasions in the month — September 13 at 18070.05 and September 14 at 18003.75.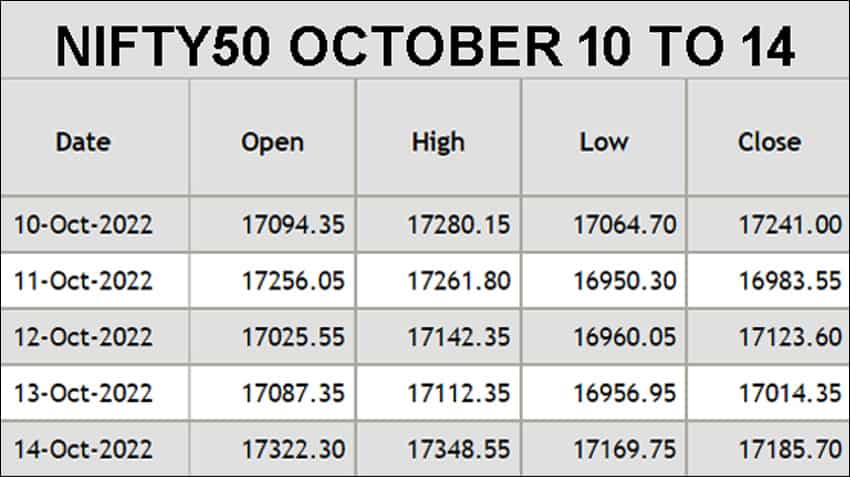 The psychologically crucial 18000-mark was achieved in September after 111 trading sessions.
ALSO READ: BUY ITC Share: Check price targets by brokerages | ITC Q2 Results Date