Moving Up Market With the 2023 Mazda CX-50 (Review)
Mazda is experiencing a bit of an identity crisis, thanks to new and updated premium models that are pushing the brand toward luxury. Although Mazda chiefly targets mainstream competitors such as Toyota and Ford, certain top-trim grades apparently have Audi and Lincoln shoppers in mind.
For 2023, an all-new Mazda CX-50 debuts, an elegant compact SUV with room for five.
2023 Mazda CX-50 Review
For 2023, Mazda now sells a pair of compact crossover utility vehicles. The CX-5, heavily updated for 2022, continues. But it is joined by the CX-50, an all-new model based on a fresh platform.
Although the two share the same powertrains and come with standard all-wheel drive, they are distinctly separate models. Mazda offers the 2023 CX-50 in 10 grades/packages.
These are: 2.5 S ($27,550), 2.5 S Select ($28,950), 2.5 S Preferred ($30,250), 2.5 S Preferred Plus ($32,690), 2.5 S Premium ($35,150), 2.5 S Premium Plus ($37,150), 2.5 Turbo ($37,150), 2.5 Turbo Meridian Edition ($39,950), 2.5 Turbo Premium ($40,300), and 2.5 Turbo Premium Plus ($42,300). Add $1,275 for the destination fee.
Exterior Remarks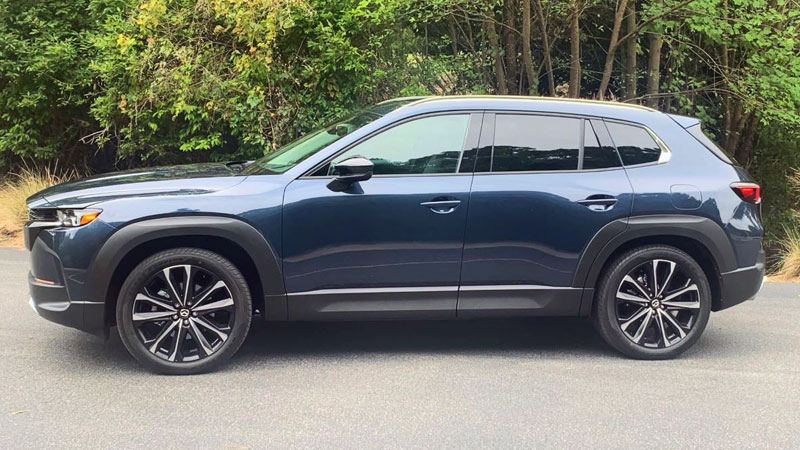 The CX-50 cuts a stylish pose with handsome features front, sides, and back. We're in an era where grilles are larger and in the CX-50 there is no exception. But the bigly grille suits the front fascia well and is complemented by elegant lighting elements and a sporty lower intake. 
The hood seems uncommonly long for a compact vehicle. Strong shoulders, a high beltline, wheelbase cladding, and a gently falling roofline are features of note. From the rear, horseshoe accent lighting and dual exhaust tips on the turbo model supply a sporty look. It's all pulled together in an attractive package that is anything but pedestrian.
Roof rails, alloy wheels, and a manual liftgate come standard. Move up through the trim range and the amenities list grows. Features such as power-folding and heated side mirrors, a power liftgate, and remote start come in. A panoramic roof is available. 
Interior Highlights
Mazda lent us a top-trim model, therefore we witnessed just how elegant the CX-50 can become when so adorned. Leather-trimmed seats and dual cross-stitched leather on the dashboard caught our attention.
Soft touch materials elsewhere, metallic trim, and ambient lighting reminded us of the Audi Q3 and the Lincoln Corsair.
The CX-50's cabin, though, is straightforward, uncluttered, and open. The steering wheel has the most clutter with audio, cruise, and camera controls among the switches present.
The front seats are comfortable, supportive, and in most models heated with available ventilation. The rear seat is generously padded and offers comfort for two adults or three in a pinch.
Cargo space measures 31.4 cubic feet behind the second row and 56.3 cubic feet with the rear seat folded flat. That's about average for the segment, although the Ford Escape and Toyota RAV4 supply more space.
Cloth seats come standard. Imitation leather, real hides, heated outboard rear seats, and a heated steering wheel are among the upgrades.
Technology Features
Is there a weak link with the CX-50? There is. Like other Mazda models, this one relies on a console dial to control the center display screen, which measures either 8.8 inches or 10.3 inches, depending on the grade.
That's very much a 2010s Audi approach to technology. But even Audi abandoned that style several years ago. In any case, Mazda supplies a touchscreen arrangement, but the screen is outside the reach of some drivers. 
Besides the screen choices, Mazda equips the CX-50 with a standard 8-speaker audio system, wireless Apple CarPlay, connected Android Auto, and dual front USB ports. A Wi-Fi hotspot and Bluetooth are included. 
The list of upgrades includes a wireless charging pad and a 12-speaker Bose audio system. Two additional USB ports, HD Radio, and satellite radio are available.
Safety Features
Mazda supplies the CX-50 with standard automatic high beams, automatic emergency braking, blind-spot monitoring, active lane control, and adaptive cruise control. That's an impressive list of features that is in line with what competitors such as Toyota, Subaru, and Nissan offers.
There are a few upgrades available which are found in the upper trims. These include a surround-view monitor and parking sensors. A head-up display is supplied with only the top trim models.
Powertrain Choices
Mazda offers a pair of 2.5-liter four-cylinder engine choices with the 2023 CX-50.
The first engine is naturally aspirated and develops 187 horsepower and 186 pound-feet of torque.
The second engine is enhanced with a twin-scroll turbocharger. This version produces 227 horsepower and 310 pound-feet of torque when fueled with regular-grade gasoline. If you prefer premium fuel, these numbers climb to 256 horsepower and 320 pound-feet of torque.
A 6-speed automatic transmission routes power to all four wheels. That's two fewer cogs than what most competitors offer, although some utilize a continuously variable transmission. We'll take the 6-speed!
The base engine has a towing capacity of 2,000 pounds. Meanwhile, the turbo pulls up to 3,500 pounds. Neither model is especially efficient, however, with the base model averaging 27 mpg combined city and highway to 25 mpg for the turbo.
Competitively speaking, the Nissan Rogue earns upwards of 33 mpg combined.
Driving Highlights
Pick your power. We were entirely familiar with the CX-50's engine choices before our evaluation as these engines are commonly found in other Mazda models. Including the CX-5. 
We believe most customers will find the standard engine sufficient. It is also affordable, and the lowest-cost Turbo model is $10,000 more than the base S trim.
If you're a performance maven, the Turbo is where it's at. This model cranks up serious power, especially when fueled with premium-grade gasoline. Yet, we'd save our 50 cents and go with regular. Either way, this compact crossover tops 300 pound-feet of torque, an amazing feat that is for certain.
The turbo does an admirable job of spooling, although some lag is detected under hard acceleration. Once fully active, the amount of power supplied is nothing short of impressive.
That power is entirely useful on the highway, especially when passing. This model supplies a connected steering feel and good handling. A composed ride simply imbues this vehicle with the comfort we want.
There is a bit of an oddity with the CX-50. The standard all-wheel drive admirably kicks in when the conditions are right, such as on slippery roads or when cornering.
For an unknown reason, though, Mazda does not offer adaptive dampers or an air suspension, features that would make this compact crossover the ultimate driver. But that would also push its cost into BMW X3 territory, which is the maker of the ultimate driving machine.
Mazda CX-50 Considerations
We like what Mazda did to make the CX-50. It is a premium model through and through, a fitting stepping stone between mainstream and luxury brands. That's the position Buick once held with GM, but Mazda simply does it better. At least with this model.
At the same time, cost-conscious individuals should carefully weigh the slightly smaller CX-5. There are savings to be had there, although the $40,000 threshold is also breached with the top-trim model.
That's the kind of sticker shock we find difficult to fathom for a compact crossover, notwithstanding the high quality and design Mazda pushes forth.
---
Photos copyright Auto Trends Magazine. All rights reserved.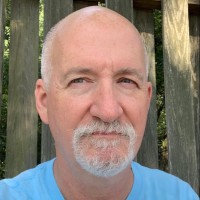 Latest posts by Matthew Keegan
(see all)